Enter to win six (six) Blue Isbar Hatching eggs! All you need to do is answer the question "Why did the chicken cross the road?" Answer in the comment section, leaving an email address so we can contact you if you are the winner. The winner will be chosen by random.org, not based on your answer, which is for amusement purposes only. Value? Day-old Isbar chicks sell for $99.00 through Greenfire Farms. Who knows? You could get lucky!
Rules:
1.) Only one entry allowed per person. All other comments will not be entered into the contest.
2.) Eggs will be shipped unless you live close enough for local pick-up.
3.) Contest will run from today through Sunday, February 5 at 5 p.m. PST, when the winner will be posted.
4.) Winner has 24 hours to provide shipping address or the eggs will be offered to the runner-up.
Test Hatchlings from my stock this week!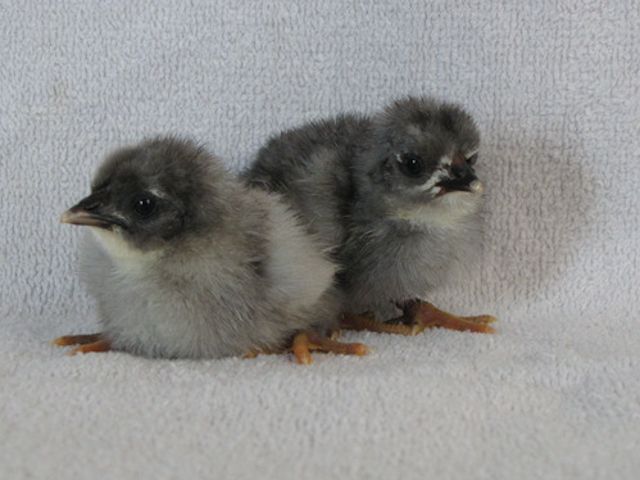 Reminders: I only have one hen laying so I cannot include extras.  I will not replace eggs that do not hatch or develop. I will package them well but I cannot control what happens after they leave my hands. Please re-read my terms and if you do not agree to these terms, PLEASE DO NOT ENTER THE CONTEST!     
Description:
Offered are six hatching eggs from my flock of GORGEOUS Blue Isbars, which consists of two cockerels and 11 pullets obtained from Greenfire Farms.  Of the pullets, only two are at point of lay and I believe only one is laying. That is why the contest is for six eggs only. This is my main man, Bjorn. The picture does not do him justice. His feathering is stunning and his comb is erect and straight as an arrow.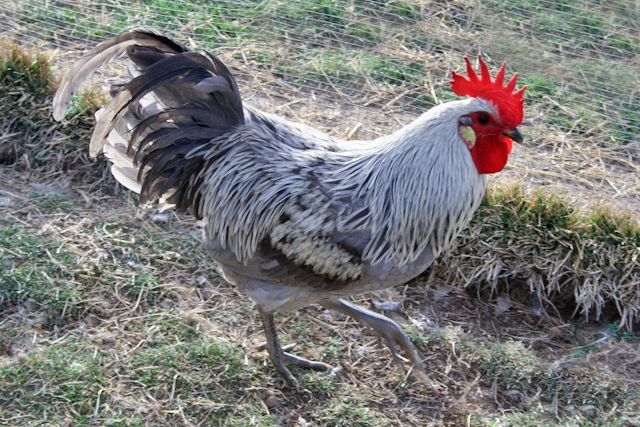 This is my hen Frida who is busy laying your hatching eggs. She is a lovely blue pullet.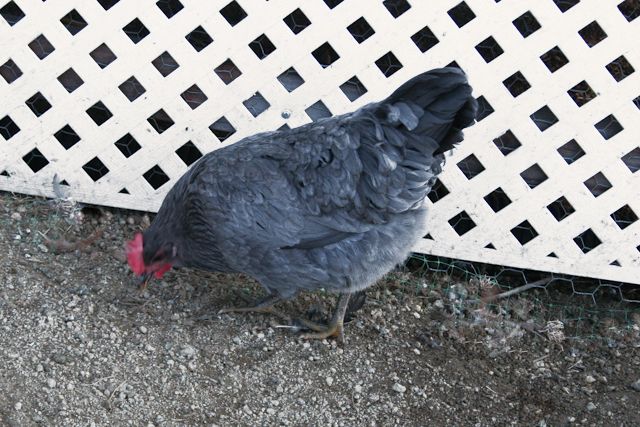 About the Isbar from Wikipedia:
The Isbar was developed in Sweden in the 1950s by Martin Silverudd. They lay around 250 large green eggs a year. Blue is the preferred color, but as with most Blue fowl, they also exist in White, Splash and Black. The hens weigh around 2-2.5 kg.
They are a fairly docile, easy-going bird and generally pretty good on range. 
About the Isbar from Greenfire Farms:
Every nation seems to harbor its share of backyard biologists and mad monks who are irresistibly drawn to tinker with the chicken genome in the quest for a more perfect bird. Sweden is no exception, and its monk —literally in this case–was Martin Silverudd, a Catholic monk who in the tradition of Gregor Mendel before him plumbed the depths of genetics and created a number of chicken breeds in the 1950s and 1960s. Silverudd had in mind the goal of creating auto-sexing breeds that laid a high volume of unusually colored eggs. 
To a remarkable degree Silverudd was successful in his quest and along the way created breeding protocols that would later be studied and adopted by sophisticated university geneticists and animal scientists. But, perhaps his greatest achievement was the creation of the isbar (pronounced 'ice bar'), a breed as practical as it is beautiful and the only green-egg-laying single combed chicken breed in the world.
There are a few varieties of isbar, and Greenfire Farms was lucky enough to locate one of the last remaining flocks of blue isbars, the most spectacular variety of the breed. Probably fewer than a hundred blue isbars exist in the world; a tragedy given the beauty and usefulness of this variety. Roosters have shimmering metallic hackles that overlay deep blue body feathers. The hens are also striking with their blue feathers, and splash color patterns are common within the variety. Because of the genetics of the blue coloring, the auto-sexing feather patterns in chicks are not as pronounced (and may be altogether absent) when compared to other auto-sexing breeds like the cream legbar. The chicks produced by blue isbars can be blue, black, white, or splash.  These cold-hardy birds are thrifty foragers that will produce 150-200 moss green eggs a year. Whether speckled or pure green, the isbar eggs are as fantastic and exotic as the birds themselves.
About the Isbar from me:
I have found the Isbar to be a beautiful, calm breed of chicken. My oldest cockerel is strikingly beautiful and possesses all the good qualities you want in a rooster. He is on alert and sounds the alarm when needed, protects the baby chicks, and rounds up the flock at night before the door closes. The hens are quiet and go about their business in peace. I have noticed that the age groups stay together with little interaction in the yard. The cockerels seem to respect each others territory. I received my older trio as juveniles and the younger group of nine as day-olds.
I have not been able to tell the difference between males and females so I think that auto-sexing does not apply. That is just my opinion.
I think the egg color is very pretty but it is not accurate in some of the pictures that are being posted online. It is not a bright mossy green, rather it is sort of a khaki green.  I just wanted to set the record straight on that, as it was not the egg color I was expecting. That being said, the eggs are lovely and I am so pleased with my flock. Please see picture to get an idea of egg color.
Terms:
Eggs have been tested for fertility. Please understand that I will package the eggs to the best of my ability to prevent breakage, but I cannot be responsible for damage done in transit. They will be shipped USPS Priority Mail unless the buyer contacts me and opts to pay additional for Express shipping. When the eggs have shipped you will receive a tracking number. The fact that an egg does not hatch does not mean that it was infertile. Rough handling, x-rays, etc can cause damage that prevents the egg from developing. For this reason, the buyer must understand that I will not replace eggs that do not hatch or develop. Shipped hatching eggs are a gamble. Sometimes you win, sometimes you lose. I will do everything possible to assure you a win but will not be responsible should Lady Luck not cooperate. In addition, I reserve the right to refuse sales to anyone if I feel the situation warrants it.